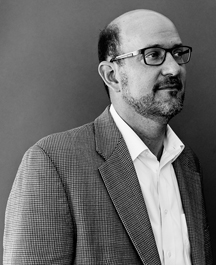 David Bucek, FAIA, LEED AP
David Bucek's methodical yet inspired approach to creating innovative and sensitive solutions addresses the distinctly different challenges presented by the wide range of projects in his portfolio. In addition to the design and construction of award-winning and sustainable architecture, his expertise includes the restoration of historic buildings and the preservation of modern landmarks of the post-war heritage.

David's ability to work out complex program requirements and align often-competing interests has earned him a national reputation for excellence. His portfolio includes residential, university, and museum work, including the preservation of Houston's Contemporary Arts Museum, the Frame/Harper House the Menil House and Sengelmann Hall. He has received recognition for design from the National Trust for Historic Preservation, Texas Society of Architects, Preservation Texas and AIA Houston. National publications and academic journals, as well as every major Texas publication, from Texas Architect to Texas Monthly and Texas Highways, have featured his projects as well as his successful and unflagging advocacy on behalf of Texas' historic courthouses.

David holds a B.Arch from the University of Houston and an M.Arch from Harvard University's Graduate School of Design. A champion of good design past and present, he has taught at the University of Houston and the University of Texas at Austin. He serves on the board of Preservation Texas, AIA Houston, Houston Mod and as a commissioner on the Houston Archaeological and Historical Commission. He and William Stern formed Stern and Bucek Architects in 1999, after many years of working together at William F. Stern & Associates Architects.