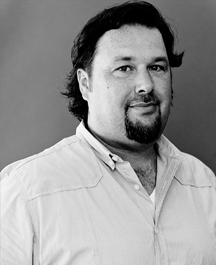 Daniel Hall has a keen eye for clean, modern, and streamlined design that is expressed throughout his work, from residential to commercial, arts, and university projects. His passion for exquisite interior design and furnishings also augments his architecture and complements his mindful approach to detailed drawings and attentive construction administration.

Among his residential projects are the Levit House, Caddell and Chapman apartment, Salazar and Andrews houses, as well as the Pearl Fincher Museum. His renovation and preservation portfolio includes the conversion of Oshman Engineering Design Kitchen at Rice University, the renovation and preservation of the award-winning Menil House, and the renovation of the offices of fd2s in Austin (now the headquarters of the Texas Society of Architects).

Daniel received his B.Arch from the University of Houston. He also studied at the Centre d'Etude d'Architecture et d'Ubanisme in Saintes, France. Continually developing his design repertoire, he attends the Salone Internazionale del Mobile in Milan each year to gather interior design information and inspiration for his work. He joined Stern and Bucek Architects in 1999 and was named principal in 2011.